EARLIER PAGES:
What's New in Paris (2011-2015)
|
What's New in Paris (2016)
(Uploaded on December 9, 2017)
What's New in Paris?
What's new at the Pompidou Centre
The architects who built the Pompidou Centre (aka Beaubourg) 40 years ago are finally (and literally) put on a pedestal. The statues of Richard Rogers and Renzo Piano by Xavier Veilhan (shown facing the world-renowned museum/library) were unveiled on 19 October 2017. Together with Gianfranco Franchini, the team were awarded the project after winning an international competition.
Initially proposed to be set up at the Tuileries garden but rejected as it was considered to be "obscene", the controversial "Domestikator" by Dutch sculptor Joep van Lieshout has instead been put up on display at the piazza of the Pompidou Center (near the Stravinsky Fountain) on 17 October 2017. It will be removed once the International Art Fair (FIAC) is over. Photos: pgoh
Wine Harvest Fair in Montmartre (Fete des Vendanges)
The yearly Fete des Vendanges (Wine Harvest Fair) was held at Montmartre in the vicinity of the Basilica of the Sacred Heart from 13 to 15 October 2017. Although Bordeaux is the wine capital of the world, yet Paris has its own vineyard at Montmartre (Clos Montmartre Vineyard) in the 18th district. From the famous artists' corner at Place du Tertre, look for rue Norvins and walk down to its end. Turn right for rue des Saules and you will find the Clos Montmartre Vineyard to your right (the entrance is at 14 rue des Saules). You cannot enter though unless you are with an organized group. (Photos: pgoh)
Ganesh procession in Paris on August 27, 2017
A riot of colours everywhere as Paris's Little India at La Chapelle in the 18th district takes on a festive mood for its yearly Ganesh procession on Sunday August 27, 2017. Long after the procession was over, the whole area was still a hive of activities with hordes of people patronizing the street stalls set up for the occasion. The numerous resident restaurants set up tables in the middle of the numerous streets to add further to the festive mood. More pictures in this masonry image gallery. (Photo: pgoh)
Aérosol, temple of street art in Paris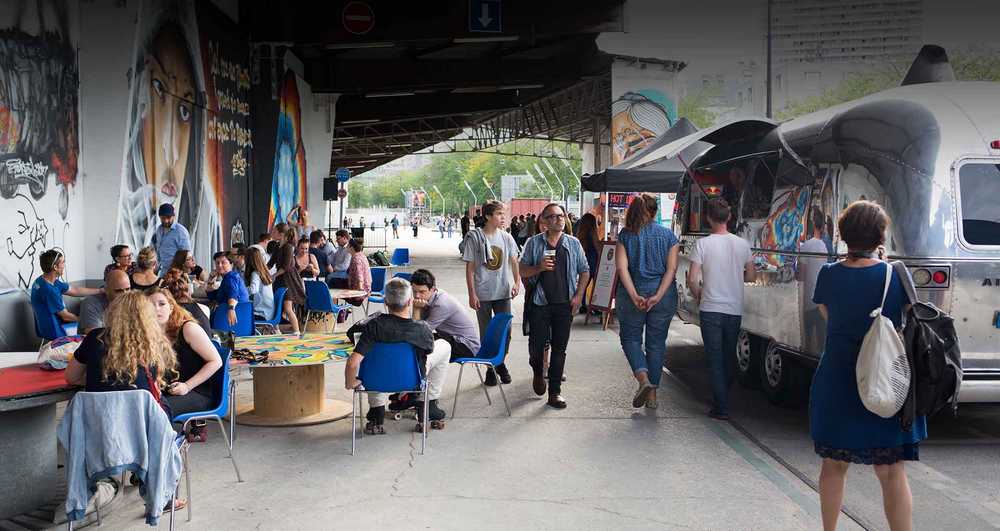 Photo: L'Aérosol
Photo: Freddy Muller/Wind Project
Photo: pgoh
This temple of street art is the latest cool place to go to for a beer or a snack from the various food trucks there. It has a limited life-span however. Open on August 2, 2017, it is scheduled to close on January 28, 2018. You might not be able to find it easily as its entrance is located somewhere along a 200m-long wall bordering the road. If you don't want to get lost, look for the Tristan Tzara bus-stop, and you won't be too far away from it. (In fact it is 50m further on, just keep on walking along the wall that seems to lead to nowhere).
ADDRESS:
54, rue de l'Evangile (métro: Marx Dormoy)
OPENING HOURS:
Wednesday, Thursday and Friday: 16h-23h
Saturday and Sunday: 12h-23h
It's closed on Monday and Tuesday.
Go here for its official site.
Michalak at the Centre Pompidou (Beaubourg)
A Michalak food truck has been installed at the piazza of the Centre Pompidou (Beaubourg) since July 10, 2017. It will be there until September 30, 2017. (Photo: pgoh)
David Hockney Exposition at the Centre Pompidou (Beaubourg)
An exposition of David Hockney's works is being held at the Centre Pompidou (Beaubourg) from June 21 to October 23, 2107. The exhibition, to celebrate the British artist's 80th birthday, is held in collaboration with London's Tate Britain and the Metropolitan Museum of New York. The above painting, entitled A Bigger Splash, is considered to be one of Hockney's best works.
Paris makes canal swimming at La Villette a reality
Come summer it is now possible to swim in the canal waters at La Villette (nearest metro: Jaurès). In fact three pools using filtered water from the canal are now open to the public. The first day of its opening on July 17, 2017 saw hundreds of people queuing up for over an hour in order to be able to enter. It will open every day from 11h00 to 21h00 until September 10, 2017. Unlike other municipal swimming pools, this one, with the most basic changing facilities and shower, is free. Come prepared with a 1 euro coin if you want to make use of their lockers (not big enough for a backpack though).
Of course this laudable new swimming facility by Paris's City Hall is meant more for frolicking than for serious swimming. In fact this place is great for a one-time experience of swimming with seaweeds all about you. But if you are scared of seaweeds then stay in the middle pool with the youngsters! (Photo: pgoh)
A second picture
Lettre ouverte au monsieur que j'ai rencontré à la baignade
The uglier side of Paris at Porte de la Chapelle
The local residents living around Porte de la Chapelle (in the 18th district of Paris) could not take it anymore. At a huge gathering on 23 June 2017 they took the authorities to task for leaving the area to total abandon. This picture, taken on 26 June 2017, shows the unhygienic conditions of the neighbourhood in which they live, with the incessant arrival daily of new migrants, who hope to find a place in the already-overcrowded centre for migrants nearby. (Photo and story from Le Parisien)
Updated July 8, 2017: Things are back to normal now. A vast evacuation of the 2771 migrants camping in the area for the past few weeks was held from 6.00 a.m. on Friday July 7. The operation ended at around 11.00 a.m.
Paris looks ahead to the 2024 Olympics
Paris does not do things by half-measures. In connection with its bid to host the 2024 Olympic Games, a full-length running track for 100m was constructed in the middle of the Seine near the Pont Alexander III.
It was part of a series of events involving public participation and demonstrations of various Olympic disciplines and was held in different parts of Paris on 23rd and 24th June 2017.
The colourful structure on the Alexander III bridge that you see at the back of the picture contains the diving board from which professional divers give demonstrations of their prowess by diving straight into the Seine from a height of some 17m.
Paris is competing with Los Angeles for the right to stage the 2024 Olympics after Hamburg, Rome and Budapest withdrew their candidatures earlier on. The IOC will annonce its decision on 13 September 2017. (Photo: pgoh)
Parc Rives de Seine (inaugurated on 2 April 2017)
Put mouse on photo to stop the slide show. Photo credit: pgoh
The latest attraction in Paris is a 4.5km promenade along the right bank of the Seine River starting from the Quai des Tuileries (mid-point of the Tuileries Garden) and ending at the Arsenal port near Place de la Bastille. It was inaugurated by Anne Hidalgo, the Mayor of Paris, on April 2, 2017.
Called "Parc Rives de Seine", it is meant to link up with the existing 2.5km promenade along the left bank via the Passerelle Leopold-Sedar-Senghor to make a total of 7km in all. However much of it is not totally new, as the heavily-cobbled surfaces in some sections have not been tarred, making it difficult for a stroll if one is not wearing comfortable sneakers. The innovative (and highly animated) part really starts from the Pont Neuf side and ends at Pont Marie near the Notre-Dame Cathedral. Note though that on a sunny day you should start your walk from the Pont Neuf side and not the Notre-Dame side if you do not want to have the sun's rays smack in your eyes!
Picture shows the steps leading from Pont Neuf (opposite the Samaritaine) where your promenade can begin. There is a stand selling snacks here.
There are plenty of long "benches" all along the Parc Rives de Seine.
Stretches of green are few and far between but you can still close your eyes and imagine you are in a park.
A long patch of grass along the Seine River for sun-bathers.
A wooden boat for the little ones to have fun with.
A wooden structure in the form of an upturned boat with netting all around it to allow bigger children enjoy a game of mini-football inside.
Where is the park along the Seine River? It's here, not far from the Notre-Dame Cathedral.
Another view of the little park along the promenade.
Little tables and chairs are set up near the Pont Louis-Philippe side to face the Seine River.
Tables for picnickers a bit further down near the Pont Marie.
A place to sit with a book to read or just to find quiet and peace of mind.
This part of the promenade was formerly full of cars whizzing by.
Something for the sportifs.
The young take their first steps in climbing walls
Tree trunks to help the kids keep their balance.
A Frenchman offering facial and neck massage for a small contribution.
A hammock to keep the youngsters happy.
The 4.5km promenade ends at the Arsenal port near Place de la Bastille.
The Passerelle Leopold-Sedar-Senghor links the promenade on both banks of the Seine River.
Previous
Next
Earlier page on What's New in Paris
If you find this site interesting or useful, do share it with your friends!